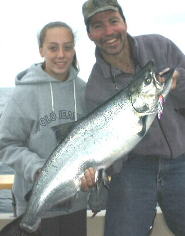 Danielle Krommes caught this 25lb. Chinook Salmon the first week in June on an R&R Split Diamond Glitter Series Lure.
We here at Fantasy Charters are proud to announce Captain Clyde Keck has been selected as one of the few charter captains to join the R&R Pro Staff Fishing Team. Fantasy Charters has been testing R&R lures on Lake Ontario for the past several seasons. Trying to determine which combinations (size/color) work best in different lake conditions. Everyone using R&R lures on Lake Ontario knows they work great on trophy trout and king salmon. If you have used these lures, or have heard about the success of R&R lures then you know why we are proud to join this limited Pro Staff! Visit the R&R Tackle company web page at mytacklebox.com to get more information on these great lures.
Fishing tips for running R&R Super-lite & Silver Scale Series Lures

I want to state that I am a better fisherman than I am a writer, but I will try to make this information as useful as possible. I have been working with the R&R Lure Company the last few years to test various colors, patterns, lure sizes, and techniques. I have found that the R&R lures have been the top producing lures for me especially in the spring and early summer fishing when our main species are Brown Trout, Steelhead, and occasionally Salmon.

I believe there are two key things that make these lures work so good for many anglers. The first reason for using R&R Super-lite & Silver Scale Series Lures is that they are speed forgiving. Many lures have an optimum speed range, which they must be run at to have any effect. Many lures when used at slower speeds do nothing to attract fish, and if used at a slightly faster speed the lure spins out of control. The R&R Lures can be run from 1 mile per hour to 3.5 miles per hour and still work great. The larger speed range of these lures helps anglers adjust the lure to fit their preferred presentation. Many fishermen like to troll slowly, while others find that pulling their lures faster works best. Everyone has to find a speed that works on his or her boat and try to repeat it until they are not getting any more hits at that speed.

Depending on water temperatures and water clarity the speed used will make a difference in how many hits you get. In colder or muddy water a slower speed seems to work best. While in warmer or clear water when the lures can be seen a greater distance the faster speed seems to be the most effective for getting hits. When I first saw these lures I thought of the old flutter spoons that had to be trolled slowly to be effective. This is not so with the R&R Super-lite & Silver Scale Series Lures as the cup and special bend in these lures allows you run about any speed you desire. Personally, I don't like to troll slow as I am impatient angler. I am always thinking there are more fish ahead of me and I want to cover as much water is as I can! Once I find a good fishing hole, or I am getting lots of hits, I will work that area over hard.

The last couple of years on Lake Ontario our waters have been getting much clearer. Many of the charters from Fair Haven, New York that work together finding fish have found that we are catching Brown trout, Steelhead, and Salmon by running at a faster speed. I run the R&R Lures between 2.7 and 3.2 miles per hour. Many people would think this is on the fast side, but it has worked for me. If we are fighting a fish and slow down we don't seem to get another hit until we get our speed back up again. I believe if a lure is presented to a fish in a faster speed it will trigger that fish into biting out of instinct.

The second key reason for using R&R Super-lite & Silver Scale Series Lures is the great variety of colors. The special paints and sparkles that look like real scales are amazing. When they dance through the water and reflect the light it is hard for any fish not to take a bite out of them! Our best color two seasons ago was monkey puke (on the color chart #11 and size 2 ¾" and 3 ¼"). We caught Brown Trout, King Salmon, and even Walleyes on that color. Last year it was still good but the watermelon (on the color chart #13 or #17 black dot or grape dot) color worked the best. We usually start with 6 or 8 colors in the morning and we let the fish tell us what color they prefer on that particular day. Last season by the end of the day we were running 5 or 6 watermelon lures. Try a variety of colors as every area of the Great Lakes has different water clarity, so different areas will have different colors that work best on any given day.

Another great advantage of the R&R Lures is that the paint is very durable; it will not peel off after catching a fish or two. Some manufactures are having a hard time getting their paint to stay on the lures. It is frustrating to have the right color lure working for you, but after catching a fish or two you realize you are running a plain silver lure and no longer catching any more fish.

I have found that the most critical part of this set up is to run the R&R Lures (or any other lure that does not have a ring on the front) with a good quality snap swivel with a "Duo-lock snap". A cross lock swivel will hurt the action; you want the lure to swing free with no restrictions. Another way of rigging your setup is to put a small barrel swivel on your line than two or three foot of fluorocarbon line tied to a "Duo-lock snap" at the end. This will help eliminate line twist. We run these lures in the spring off planner boards 80 to 100 feet back with no weight added. This allows the lures to run just below the surface, and you can run in close to the shore and not get hung up. If you get into a situation where there is grass or weeds floating then just add a small sinker or split shot three feet up the line. This will catch the weeds before getting to your hook on the lure. It is also a good technique when the water warmers up slightly, and the fish start to go deeper.

If you are fishing Lake Ontario or any of the Great Lakes for Trout, Salmon, Walleyes, or even Bass, I believe you cannot find a better lure. Get a variety of colors, and give them a try! Don't be afraid to run them faster than you would normally run other lures. For a good look at all the colors and sizes available go to the R&R web page at www.mytacklebox.com.

Good luck and tight lines!
Capt. Clyde Keck

About the author: Captain Clyde Keck has been fishing Lake Ontario for over thirty years. The last twenty-one years as a professional charter boat captain running Fantasy Charters. For more information about the captain, or Fantasy Charters go to www.fishinglakeontario.com.